This series is going to be a treat.  The Spurs series was an unexpected letdown in terms of competitive value, but Mavs-Nuggets will surely do more than wet your playoff palate.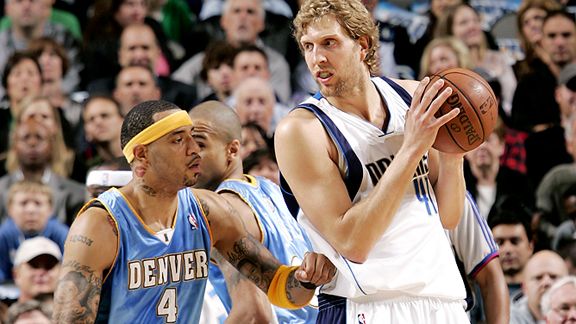 Photo by Glenn James/NBAE/Getty Images.
The Mavs' 0-4 record against the Nuggets in the regular season is well-documented, but those games couldn't possibly mean less.  Josh Howard returning from injury (and his renaissance) are akin to a major trade: it significantly changed the way that the Mavs approach the game, the way they execute on both ends, and the way Carlisle manages the rotations.  The five games' worth of Playoff Mavs has been shocking not only in quality of play, but also just how this team has evolved since their regular season dog days.  The regular season irrelevancy goes double for the Nuggets.  Denver was a good regular season team, good enough to secure the number 2 seed in the West.  But the way that the Nuggets completely erased Chris Paul and the Hornets at large was a remarkable feat that the regular season Nuggets just weren't capable of.  At this point, no one can accuse either the Nuggets or the Mavs of not approaching the playoffs with the appropriate level of focus.
These teams match up exquisitely, and provide a bit of yin and yang at every matchup.  Chauncey Billups' function is to set up his teammates as a function of his scoring, while Jason Kidd's function is to score as a function of getting his teammates going.  Dirk Nowitzki and Kenyon Martin will face off at power forward, but couldn't have more contrasting styles.  Josh Howard, a player who broke into the league with his defense and developed more consistent offensive skills, will do his best to stick with Carmelo Anthony, a phenom with a wide offensive range who has only recently begun to groom his defense.  And yet, despite these very glaring differences, each of these players provides functionally similar contributions (Billups' and Kidd's leadership, Dirk's offensive impact and Kenyon's defensive one, and Josh and Carmelo's versatility).  The defensive pieces seem physically able to counter the other team's offensive weapons, but offensive talent will undoubtedly prevail.  Essentially, you've got two teams doing very different things and producing the exact same results.
However, both teams have found great success by breaking down iso-heavy play into a team-oriented approach.  Finding consistency with the role players is again going to decide a series for the Mavs.  J.J. Barea, Brandon Bass, and Ryan Hollins appear to be up to the challenge, but success against the decidedly mortal Spurs may not be indicative of future success.  Unfortunately, Denver has a huge leg up with the way their reserves have been executing on defense.  The Nuggets won't be able to enact the same strategies that worked against Chris Paul and the Hornets, but the fact that as a team the Nuggs were able to execute to near-perfection on the defensive end is a bit concerning.  Chris Andersen and Anthony Carter are natural defenders off the bench, but even those considered suspect on that end (J.R. Smith, Linas Kleiza) have stepped up their game and helped the Nuggets to thrive on D.  If the Nuggets are able to repeat their defensive performance, the impact of players like Barea and Bass could be rendered irrelevant.
But with players like Smith and Kleiza, if you can break their concentration by denying them the instant dividends of stops, you can potentially turn them into defensive liabilities.  Dallas will need to work the mismatch game and continue to move the ball if they're going to have that kind of early success, because despite what skill set and physique will tell you about the Kenyon Martin, he can't guard Dirk one-on-one.  This season, Dirk has averaged 30 points (44% shooting), 11.3 rebounds, and just 1.5 turnovers against Denver.  Over their entire careers, Kenyon has been able to "hold" Dirk to 27.8 PPG (48.5% FG) and 10.1 RPG.  Martin has become a talented, physical defender that can give a lot of players trouble.  I just don't believe Dirk to be one of them.  Dirk has the range to pull him to uncomfortable spots on the perimeter, he has the pet moves to put Martin in foul trouble, and even if Dirk doesn't have position or an angle, he has the height to shoot over him.  Even the league's best defenders aren't ideal for guarding just anybody, and Martin is no exception.
The later George Karl realizes that, the better.  But the Mavs need to be prepared for the impending defensive pressure.  I wouldn't be surprised if we see some of the same double-teaming strategies employed by San Antonio, with the Nuggets betting they can outlast the Mavs' supporting cast.  Dirk's passing ability will definitely come into play once again, as his ability to find open perimeter shooters and slashers down the lane will greatly affect the flow of the Dallas' offense.  That means that the other players on the floor need to create and work in space and be ready to answer the call.  In the last series, that was Josh Howard, J.J. Barea, Erick Dampier, and Brandon Bass.  But with Antoine Wright poised for a more prominent role this time around, things could get a little trickier.  Wright is indispensible in his ability to spell Josh Howard as a defender for Carmelo Anthony, but his shooting is a bit suspect.  His ability to either finish his looks, swing the ball after drawing the rotated defender, or use that space to drive to the basket will be crucial.
Brandon Wade/Fort Worth Star-Telegram/MCT
"Guarding Carmelo Anthony" has been a prominent theme here, and figures to be one throughout the series.  He looked completely unstoppable in the regular season, and Carlisle will have his hands full coming up with ways to slow him down.  James Singleton is a rugged, physical rebounder and defender, but he lacks the technique and speed to keep up with a player of Anthony's caliber.  Antoine Wright will certainly have a go, but Anthony's versatility will give him trouble, as well as Wright's offensive limitations.  Enter Josh Howard, the Mavs' most promising defender at small forward.  Howard didn't have to guard an elite wing last series, but still played very impressive defense with a variety of on and off the ball tactics.  And, most importantly, he was very focused and very active, a welcome to contrast to the sometimes lackadaisical Josh we've seen in the past.  But everything won't come up roses for Howard.  He's still a little wobbly on that bad ankle, and trying to protect against the drive while predicting Melo's pull-up jumper won't help in the least bit.  Anthony's got a killer first step and a vast repertoire, two factors that go heavily in his favor.  It's up to Josh to show that he's ready for the challenge, and that whether he's guarding Ime Udoka or Carmelo Anthony, he's a top-notch defender in this league.
Personally, I wouldn't take any chances.  The more Josh is able to rest the better, because Anthony can be tired out just like Tony Parker was.  If you give Carmelo a variety of looks and coverages to keep him on his toes, he may be worn down enough to be visibly impacted.  Equally important is Josh's offense, which can assist greatly in wearing down Anthony.  Provided he's making Carmelo work around screens and stay in front of him on the way to the basket, Josh can play a huge role in limiting Anthony's minutes/effectiveness due to foul trouble and fatigue.  Of course that's only the beginning.  Antoine Wright and James Singleton need to turn into the Mavs' own version of the Nuggets' Dahntay Jones, bullying and pushing on Carmelo every step of the way.  That kind of beating can both wear down and test the patience of any player.
Speaking of Dahntay Jones, the Mavs defenders need to be fully aware of what he can (not a lot) and can't do (quite a bit) offensively.  I'm of the opinion that Jones' defender should bring a strong double on either Chauncey Billups or Carmelo Anthony, forcing Jones to either make a play or make a shot.  He doesn't have much of a midrange touch and is reluctant to camp on the perimeter, which means that the Mavs' frontline has to simply rotate to protect the basket should Jones opt to drive.  Jones isn't on the floor for his offense, so it's up to the Mavs to take advantage of that by bothering Denver's two best offensive options instead of Jones.  Even that solution isn't a cure-all, but the Mavs have to make the best of what they have defensively.  It's going to come down to so much more than K-Mart vs. Dirk or Chauncey vs. Kidd, because those are both going to be group efforts.  Team defense is what it takes to stop teams as balanced as the Mavs and the Nuggets, and so the ability of Antoine Wright to stop J.R. Smith, while completely relevant, is really only the beginning of the discussion.
Photo from friends.mavs.com
It's not that I don't have great respect for Denver's defense, but for the Mavs it really is as simple as "Do how we do, baby."  Jason Terry will face some tough defenders in Jones and Anthony Carter, but hopefully it's nothing he won't be able to overcome in transition and playing the two man game with Dirk.  Essentially, Terry is the one spot where Denver can really take something significant away from a major Maverick producer.  If Chauncey "takes away" Kidd's offensive production, at best he's taking away a spot-up shooter and bothering Kidd's dribble.  I have too much faith in Kidd's court vision and ball-handling abilities to fret about that.  If the Nuggets play Dirk one-on-one he'll get his, and if not you'd hope that the role players are able to make up for the scoring with their suddenly easier looks.  Howard has off-games, but he also provides a very different kind of player than anything the Nuggets had to face with the Hornets.  Though Denver is a very different team than San Antonio, the series comes down to the same basic premise: rely on offensive efficiency while limiting the Nuggets enough to win.  The Mavs simply don't have the personnel to rely on defensive prowess to win, so their ability to execute against Denver's D will determine their fate.
This series is a very winnable one for the Mavs.  They have enough offensive firepower to overcome even the staunch Nuggets' defense, and they have just enough to limit the Nuggets' production offensively.  Both of those rely on a million other factors, but the Mavs have have the players and the fight in them to advance.  That said, I'm picking the Nuggets to win in seven.  It's going to take incredible strategic prowess to eliminate Dirk's impact, but it would take a damn near miracle to eliminate Carmelo Anthony's.  Historically, he's had his way with the Mavs, and though Carlisle has been nothing short of excellent thus far, I'm just not sure that the team can totally withstand an attack that centers around Anthony, but is by no means reliant on him.  If Anthony (or Billups, or a combination of the two) can exploit the Mavs like Tony Parker was able to, Denver's role players will finisht the job in a way the Spurs' never could.
Here's to hoping I'm wrong.